At O'Connor Dental Health Group, our range of dental technology includes panoramic X-rays and soft tissue lasers.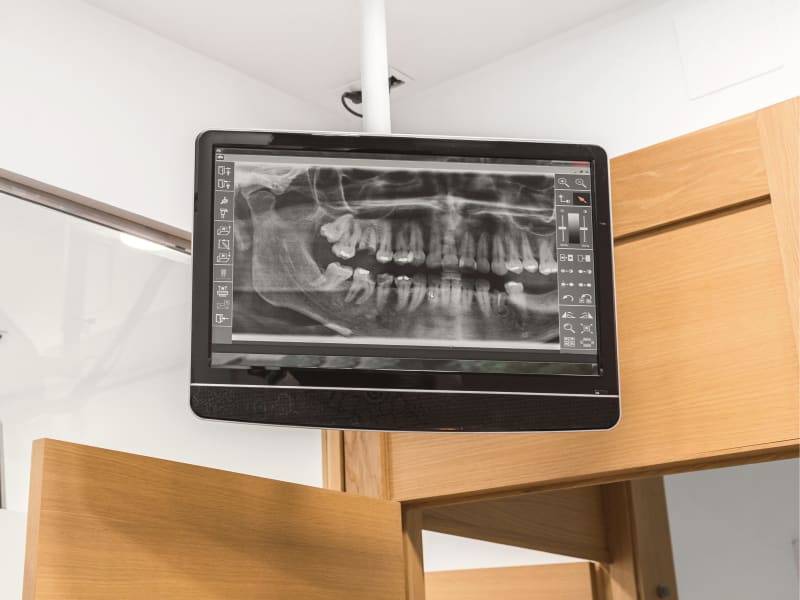 Technologies at Our Dental Clinic
At O'Connor Dental Health Group, we use dental technology to inform dental treatment plans and streamline your appointment. You can even see your X-rays in your treatment room.
We aim to provide efficient dental care and keep you informed about your oral health care with the help of dental technology.
Panoramic X-Rays
Panoramic X-rays allow your dentist to create one complete image of your entire mouth. This image is a flat representation of the teeth, upper and lower jaws, temporomandibular joints (TMJ), and nasal and sinus structures. Panoramic X-rays can be used to plan treatments for dentures, braces, extractions, and implants, but can be used for other procedures too.
Dental Lasers
In dentistry, lasers can be used in a variety of soft and hard tissue procedures. They allow our dentists to perform dental procedures with fewer medical interventions and less pain. At O'Connor Dental Health Group, our dentists use lasers to remove overgrown or decayed tissue, reshape the gums, harden dental restorations quickly, or whiten teeth.